After a two-year hiatus following Covid restrictions in France, the Cannes International Film Festival saw full seating capacity this year, befitting its 75th anniversary celebration. Actor Tom Cruise's career retrospective and honorary Palme D'or, a Top Gun: Maverick promotional fighter-jet flyby, as well as the celebrity allure of red carpet appearances, made for some of the eye-catching spectacles that the Palais des Festivals had to offer this year.
However, away from the glitz and glamour, the film festival had some of the wildest, most absurd titles among their Official Selection, reactions to which have left many scratching their head or being repulsed to the point of walk-outs.
Though film festivals have had a tendency to shroud themselves in pretenses of the 'art-house' or 'high-art', often more than not, the quality of cinema exhibited at these festivals are as suspected: self-indulgent and championing style over substance.
And while that may be the case for a good chunk of this year's selection, here are some of the wackiest, most preposterous (albeit fascinating) films to have premiered at the festival this year to watch out for as they hit streaming and theatres.
1. CRIMES OF THE FUTURE
Director: David Cronenberg
Over the years, David Cronenberg has established himself as a Cannes icon, his previous work – Crash, A History of Violence and Cosmopolis – leaving a 'lasting' impact to say the least on the Cannes jury. The filmmaker has brought his eccentricities to the fore once more with Crimes of the Future. The film is set in a dystopian future where the human body is subjugated to a series of transformations and mutations and was met with walk-outs a mere five minutes into the premiere. A master of body horror, Cronenberg doesn't hold back with his latest flick, as grisly autopsy sequences and disembowelment scenes test the limits of one's gag reflex. And if that wasn't enough, he attaches some weird sexual undertones to these surgical processes as characters orgasm by licking each others bare wounds, really putting the six-minute standing ovation it received into question.
2. SMOKING CAUSES COUGHING
Director: Quentin Dupieux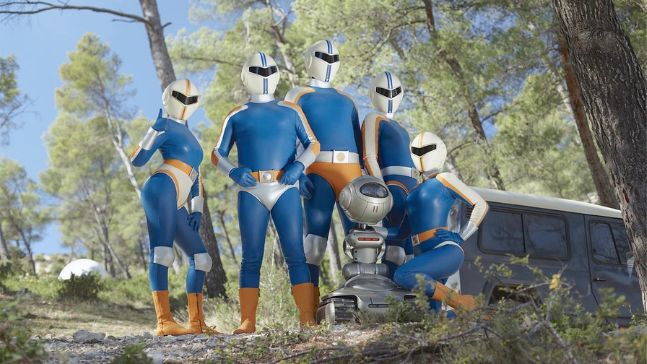 When one's filmography includes films about a serial killer car tire, a talking deerskin jacket and a giant fly; a film about Power Rangers-style anti-smoking vigilantes doesn't come off as too outlandish. If this sounds like an exaggeration, the film quite literally features a bunch of superheroes in spandex tights – Benzene, Methanol, Mercury, Ammonia and Nicotine – the Tobacco Force, who fight against the evils of smoking. The film also features a fish that speaks to these heroes as it is being cooked for dinner. It's safe to say that the film may have produced a tad more than a few *ahem* coughs.
3. DE HUMANI CORPORIS FABRICA (THE FABRIC OF THE HUMAN BODY)
Director: Verena Paravel & Lucien Castaing-Taylor
This documentary set in Paris hospitals serves as a commentary on the fractured state of healthcare and how underfunding is crippling these essential services. However, its uncompromising depiction of graphic procedures and sustained shots of viscera proved a 'little' too much for the Cannes audience. Spinal surgery, keyhole surgery, dissected breasts and multiple sharp objects being rammed into skulls and penises was enough to test the audience's limits, most, running for the exits a few moments in.
4. EO
Director: Jerzy Skolimowski
This Jury Prize-winning Polish film features the unlikeliest of titular protagonists: a donkey. Yes, you heard that right, the Cannes jury spent 83 minutes, seeing the world through a donkey's eyes. EO's journey across Europe brings many unexpected twists and turns as it comes across good and bad people, joy and pain. A worthy spin-off to the Shrek franchise.
5. TRIANGLE OF SADNESS
Director: Ruben Ostlund
Known for his seething socio-political satires, Swedish director Ruben Ostlund produced this year's Palme D'or-winning flick that follows two fashion models stranded on an island with a group of billionaires and a cleaning lady. As Ostlund takes jabs at the creamy upper layer of society, it seems the irony was lost on the very same creamy layer attending Cannes that awarded it top prize.