The 2022 Winter Olympics have ended in Beijing, and one country enjoyed a clear advantage in the final medal count.
Medal history has been made in more ways than one during the Winter Games.
Norway broke the record for the most gold medals at a single Olympic Winter Games and, most recently, Elana Meyers Taylor earned her fifth Olympic medal, making her the most decorated African American Winter Olympian.
At the 2022 Games there were 109 gold medals in total, up from 102 in Pyeongchang four years ago and a far cry from the 16 on offer at the first Winter Olympics at Chamonix in 1924.
The United States came to Beijing with the second-most Winter Olympics medals with 305.
Over 300 medals were awarded to Olympians participating in the 2022 Winter Games. With 15 sports and 109 events, ranging from skiing to bobsledding to figure skating, world-class athletes will go for gold during a two-week global competition on the grandest stage.
Here are the top nations in the final medal count: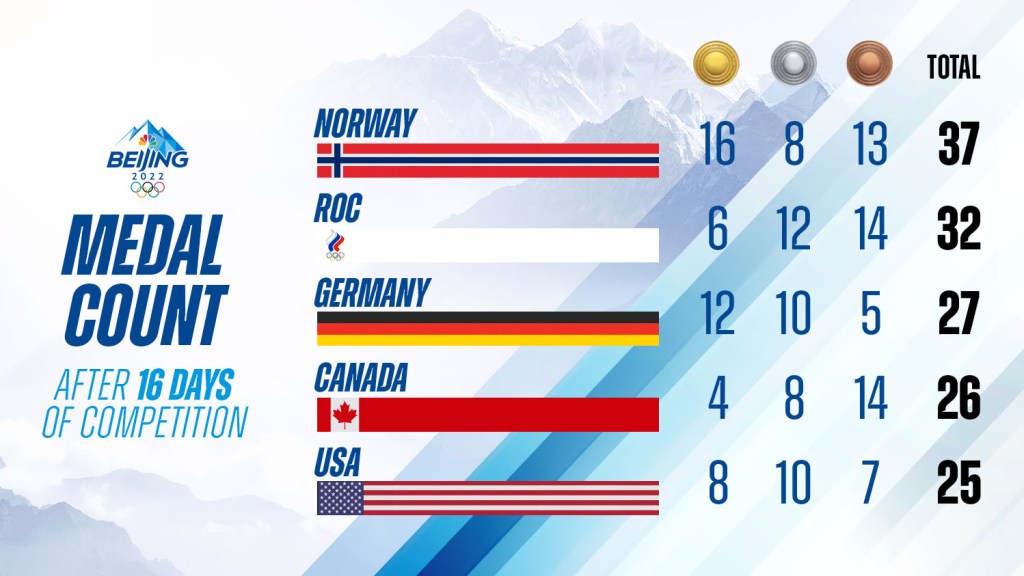 1. Norway – 37 (16 gold, 8 silver, 13 bronze)
2. ROC – 32 (6 gold, 12 silver, 14 bronze)
3. Germany – 27 (12 gold, 10 silver, 5 bronze)
3. Canada – 26 (4 gold, 8 silver, 14 bronze)
5. United States – 25 (8 gold, 10 silver, 7 bronze)
Norway not only broke the record for most gold medals in a single Olympics with 16, but also defeated the Russian Olympic Committee in the total medal count with 37.
The Russian Olympic Committee had the second-most medals with 32, winning the silver medal in men's hockey to finish up the Olympics.